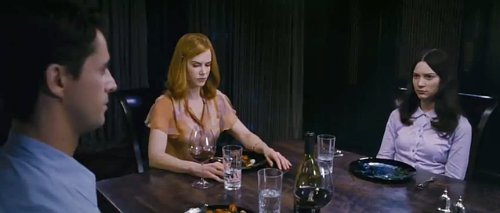 If you're not familiar with Park Chan Wook's filmography, he has a predilection for all things dark, disturbing and at times, downright messed up. Stoker is no exception to the rule, and for his first English language film Park brings with him his wonderfully expressive directorial style to greater mainstream attention, crafting a masterfully atmospheric horror. The titular Stoker family comprise just India (Mia Wasikowska) and Evie (Nicole Kidman) after the death of Richard Stoker, father and husband respectively, until their discovery of Charlie, Richard's brother, who was unknown to them until his mysterious introduction at his brother's funeral. Charismatic and handsome, it is not long before he charms the widow and takes an interest in the moody and resistant India. The resultant tension between the three is unremittingly taut and marvellously underplayed by Matthew Goode, Kidman and Wasikowska. They each play off the other like dark mirrors, reflecting secrets too disturbing to make out. In particular the creepy relationship between India and Charlie which becomes more and more twisted throughout the film is conveyed with mesmeric control by Goode and Wasikowska, both of them conveyors of an unsettling, unblinking gaze as the one figures out the other.
Park's unique direction perfectly compliments the increasingly perverted series of events which transpire around the Stokers. The transitions between sequences and the inter-conectedness of scenes are masterfully orchestrated, and interwoven with a magnificent use of sound. Out of so many outstanding sequences the scene in which India delves into Charlie's belongings while a metronome ticks on is a masterclass in tension building. Very few directors approach the command or appreciation for each frame that Park seems to have, who infuses the film with a plethora of imagery Freud would have written an essay on. If Park's vampiric Thirst oozed blood, Stoker oozes symbolism and a very sly gamut of sexual suggestibility that remains on the side of disturbing rather than black comedy. It is extremely stylised, but that only works in its favour as the incredible visuals work in tandem with the realisation of how deep the rot in the Stoker family goes.
Stoker is arguably the most impressive of Park's filmography which includes the brilliant Oldboy; it's a mesmerising display of direction, with three superb, haunting performances of a family poisoned at the root.